* Courier/Shipping charges are extra as depend on your order.
* The much you buy the less will be shipping charges.
INDIAN WEDDING CARDS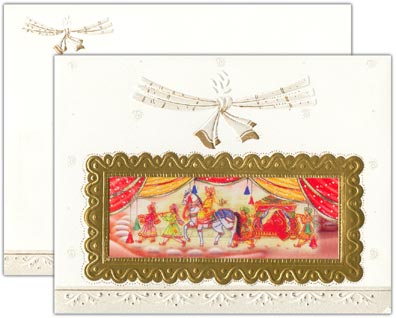 The front of this card has pearl printed border with embossed motifs having golden detailing along with a golden line. The base is composed by silver printed paisley motifs. On the top is an embossed Gathbandhan symbol in silver and gold. The paste-ups form the main image window with the golden paper having self-embossed border design. The multicolored paper paste-up shows the Barat procession. The docket has similar border as the front with a base of silver strokes and golden dots. The inserts and envelope too have similar borders. The envelope also has the embossed Gathbandhan symbol as the front.