* Courier/Shipping charges are extra as depend on your order.
* The much you buy the less will be shipping charges.
INDIAN WEDDING CARDS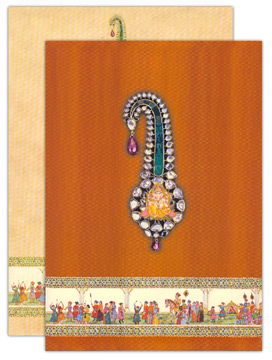 A multi-colored design card that sparks with the brilliance of shining gems and the profound joy associated with them. The front shows a multi-colored jewel pendant with shining diamonds, sapphire and rubies over a brown tone layer ground. In the middle of the pendant is a mluti-colored Ganesh ji image. The bottom has a strip border with beautiful design borders and a miniature painting of the mughal style showing the barat procession. The inside of the card has a docket flap with the image of a pendant and a kangan. The inserts have a light brown ground with a cloudy texture and design windows showing various marriage rituals. The envelope has a minimized image of the pendant and the barat border as the front.