* Courier/Shipping charges are extra as depend on your order.
* The much you buy the less will be shipping charges.
SHAGUN THAAL , COVERS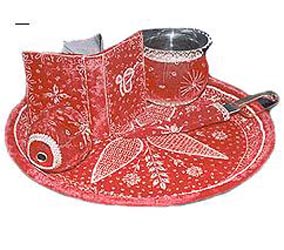 These thaals are well built of stainless steel with silk lining & these thaals are available in all colours and different sizes. Whether you use it for welcoming bridegroom or delegates of company or any special guest, it gives a personalized traditional touch to the occasion. These thaals are specially designed for the purpose of marriage and puja and are beautifully decorated with nariyal gutt [coconut] and gadvi.