* Courier/Shipping charges are extra as depend on your order.
* The much you buy the less will be shipping charges.
Wedding Crystal Mandaps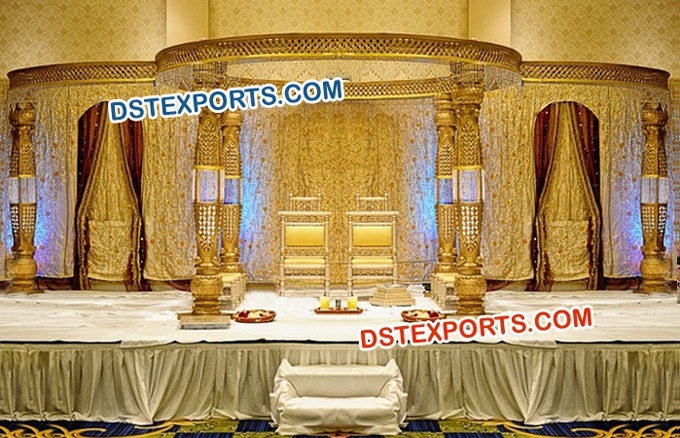 We are original manufacturer and exporters of any type of wedding Crystal mandaps, Bollywood Wedding Crystal Mandaps, Wedding Fiber Crystal Mandap, Wedding Mandaps, Wedding Decoration, Indian Wedding Mandaps, Wedding Roman Pillar Mandap, indian Wedding mandaps, Fiber crystal mandaps, Traditional wedding mandap, Wedding Crystal Mandap, New Design Wedding Mandap, Wooden carved mandap ,Wedding mandap stage fiber Pillars, Fiber Wedding Mandap Decoration, Asian Wedding Mandap, Wedding Crystal Fiber Mandap, New Wedding Crystal Mandap, Latest Design Wedding Mandap, Modern Wedding Mandaps, Lighted Wedding Mandap Columns, Wedding Mandap New Design. This mandap is made by unbreakable fiber glass and high quality deco painted and fitted with crystal in all parts of mandap. We design these mandaps in compliance with the modern trend by making use of high grade quality materials under the supervision of our skilled and experienced workforce. These mandaps are light weighted and very easy to assemble and install. We can also manufacture as per color and shape like round ,square, oval and rectangle. All Pillars and top arcs are made of Fiber glass .All Pillars are fitted with inside lights.These are all Pillars mandaps and very easy to assemble. These mandaps are light weighted Full mandaps is folding and very easy to assemble.

Set includes:- Six fiber crystal pillar for mandap, Six arcs, Two pillars and arcs for welcome gate, Six small pillars , Six Statues, Wedding chairs, havan kund , Carpet, Crystal Decoration....