* Courier/Shipping charges are extra as depend on your order.
* The much you buy the less will be shipping charges.
Wedding Stage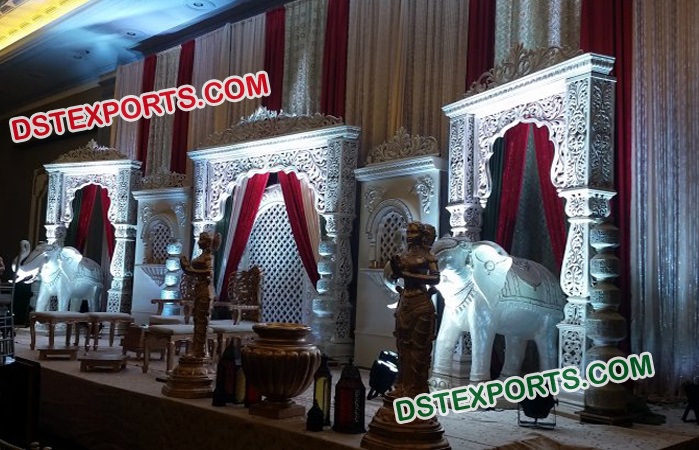 DST Exports is company to manufacture and supply all types of Jodha Akhbar Wedding Stage Set, Hindu Wedding Stage Set, Wedding Stage Set,Wedding furniture, Wedding Mandaps, Wooden Mandaps, Wedding Stages, Wedding swings, Wedding dolis, Backdrop curtains, Backdrop fiber panels, Wedding decoration items and exporter of all wedding items from India to all over the world like some major countries USA, Canada, UK, Fiji, France, Germany, Netherlands, South Africa, West Indies, Nigeria and many more other countries.

This is Jodha Akhbar Wedding Stage Set. It is made of good quality wood. It looks very attractive and fabulous. We are making these type of many products for wedding decoration. We are specialist to make all of these products. We are able to make all products on customers requirement. We are trying to do our work perfectly for making our customer satisfied.This Stage set will give your wedding totally traditional Indian look. These Designer Stages are made by unbreakable fiberglass with and high-quality deco painted. This Stage Decoration is totally folding and very easy to assemble. Our Stage Decoration Items will make your stage more beautiful. Our wedding stage decoration is done by using different Types of furniture, Backdrops and floral arrangements Variety of walkways and more to enhance the occasion. Features: • Unique design • Traditional look • Light in weight • Weatherproof design • Fine Finish. Our advantages: • FRP material can keep for a very long time; • The wedding Stages can be assembled in one hour • The wedding stage panel, a pillar is very light for carrying.