* Courier/Shipping charges are extra as depend on your order.
* The much you buy the less will be shipping charges.
Wedding Horse Costumes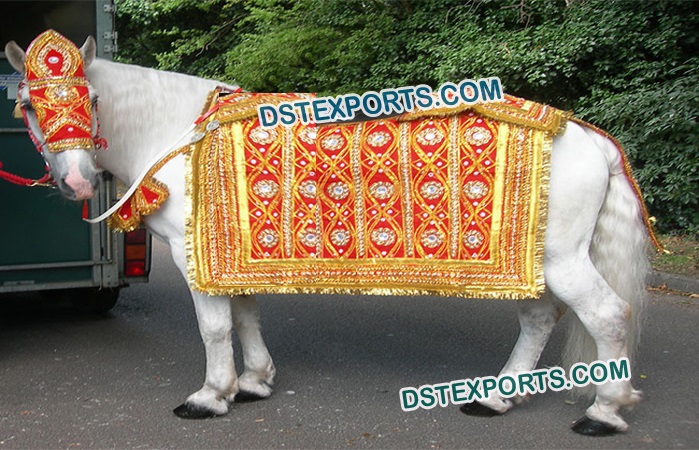 DST Exports is company to manufacture and supply all types of Horse Decoration Dress For Indian Wedding, Wedding accessories,Wedding furniture, Wedding Mandaps, Wooden Mandaps, Wedding Stages, Wedding swings, Wedding dolis, Backdrop curtains, Backdrop fiber panels, Wedding decoration items and exporter of all wedding items from India to all over the world like some major countries USA, Canada, UK, Fiji, France, Germany, Netherlands, South Africa, West Indies, Nigeria and many more other countries.

We are original Manufacturer and Exporter all types of wedding decoration Decorated Wedding Embroidered Horse costumes Traditional wedding horse costumes horse wear Heavy Embroidered horse costume Elephant Costumes Howdahs Designer horse elephant decoration Horse Ghoonghroo, kalgi Wedding Horse Costume With Matching Wedding Umbrella Horse costumes are a manufacturer with the genuine, ethnical and traditional approach. As you can be seen in the horse's costume it is designed with golden thread, shining stars and golden kinari on velvet cloth Horse costumes are available in all sizes and all colors.