* Courier/Shipping charges are extra as depend on your order.
* The much you buy the less will be shipping charges.
Wedding Fiber Backdrop Panels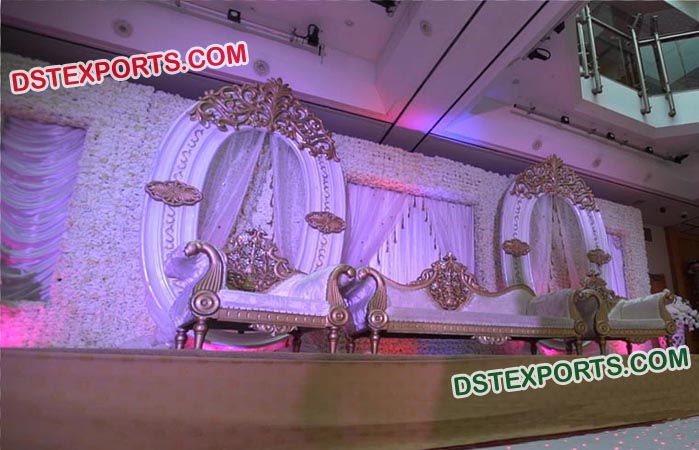 DST Exports is company to manufacture and supply all types of Fiber Oval Back Frame For Latest Wedding Stage, Wedding Frames, Wedding Panels, Wedding Leather Tufted Panels,Wedding stage backdrop curtains, Wedding chair covers,Wedding horse-drawn, Punjabi accessories, Phulkari, Wedding accessories,Wedding furniture, Wedding Mandaps, Wooden Mandaps, Wedding stages, Wedding swings, Wedding dolis, Backdrop curtains, Backdrop fiber panels, Wedding decoration items and exporter of all wedding items from india to all over the world like some major countries USA, Canada, UK, Fiji, France, Germany, Netherlands, South Africa, West Indies, Nigeria and many more other countries.

This is Fiber Oval Back Frame For Latest Wedding Stage. It is made of good quality wood. It looks very attractive and fabulous. It has two Backframe Ivel Style Panel, One sofa Set Etc.These are made of unbreakable fiberglass. These are self-standing and very easy to stand on stages. These panels are available in all sizes and many many designs.These are very time saving while staging decorations.These are available in all shapes. These fiber backdrops frames will make your wedding stage very beautiful.