* Courier/Shipping charges are extra as depend on your order.
* The much you buy the less will be shipping charges.
Wedding Horse Drawn Carriages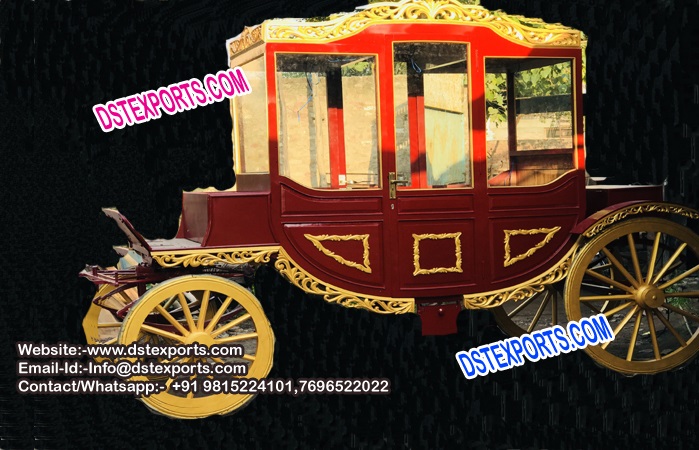 Dst Exports is best leading Manufacturer, Supplier, Exporter and creator of all types of horse-drawn carriages manufacturer, Cinderella horse-drawn carriage, Wedding Pumpkin carriage, Bridal Carriage, Multipurpose Carriage, Passenger Tourist carriage, Wedding horse-drawn Carriage surrey, Traditional Horse-drawn carriage, Princess horse-drawn carriage, wedding wooden horse-drawn carriage, Black Beauty horse-drawn carriage, English wedding white horse-drawn carriage, Royal Horse-drawn carriage, Indian wedding black-gold buggy, Wedding wooden carved horse-drawn carriage etc. from India to all over the world like USA, UK, France, Fiji, Netherlands, Nigeria, Germany, Europe, West-Indies and many more other countries.

Wedding Metal AC box type Horse Buggy includes: 1. Top part of the carriage is made of wood. 2. Chessy is made of steel fabrication. 3. Wheels are made of wood with Metal rimbs and rubber tyres. 4. Sitting is made of leather form with high-quality deco-painted and beautifully furnished. 5. All the inner handles are Stearing handles.