* Courier/Shipping charges are extra as depend on your order.
* The much you buy the less will be shipping charges.
PHULKARI OF PATIALA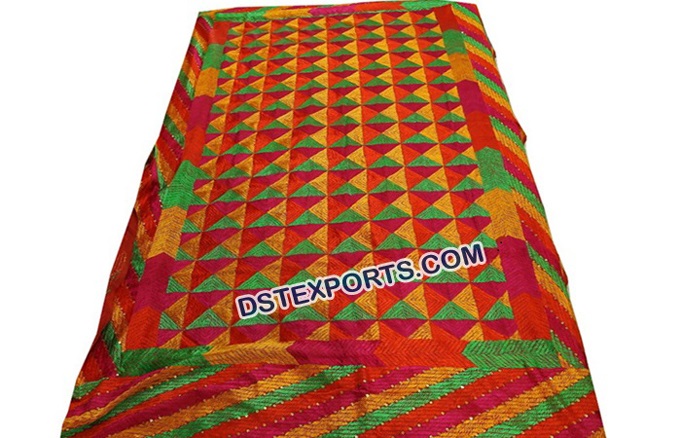 DSTEXPORTS are manufacturer and exporter all types Of Wedding Punjabi Decoration Phulkari Pakhi,Pots and other Punjabi wedding decoration it is made of silk and valvet fabric these are decorated with colorful lace or gota dabka and mirror work needle work etc In India specially in Punjab this is used at all events... Bagh literally means "garden of flowers", and the term distinguishes the flowered Phulkari is that the embroidery is so profuse that the ground color is no longer visible thus the embroidery becomes the fabric itself. Unlike Phulkari, Bagh demands more time and patience and more material, thereby increasing the expense. Thus bagh set out to be a status symbol

Punjabi Cultural Phulkari Bagh for Marriage- This is Punjabi Cultural Phulkari Bagh for Marriage.It shows the punjabi culture. It is fully decorated with handmade kadayi which is known as phulkari. It can provide in any design as per customers requirement.