* Courier/Shipping charges are extra as depend on your order.
* The much you buy the less will be shipping charges.
Wedding Stage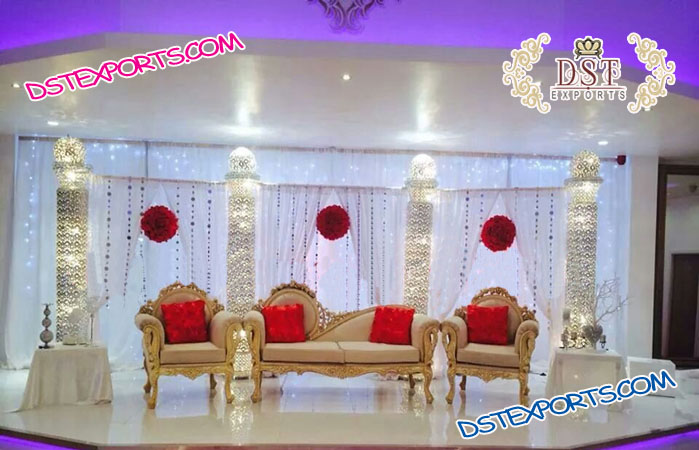 DST EXPORTS are one of the most prominent manufacturers and exporters of various types of crystal Wedding Stages. We offer a distinctive range of premier wedding stages includes Muslim Regency Walima Stage Decor Set, Srilankan Wedding Trunk Pillar Stage Set, Latest Wedding Stage Set With Flower Wall, Wedding Stage With Cinderella Carriage, Ancient Bollywood Style Wedding Stage Set, Moroccan Style Wedding Stage Decorations, Indian Wedding Jodha Akber Stage Set, Grand Bollywood Wedding Stage Set, Indian Wedding Golden Crystal Stage Decor, High Class Wedding Stage Decorations, Exquisite Wedding Stage and many more in the offering.

Stunning English Wedding Crystal Decorated Stage- Crystal based theme is one splendid idea of wedding decorations. These Designer Stages are made of unbreakable fiberglass with high-quality deco painted. This Stage Decoration is totally folding and very easy to assemble. Our Stage Decoration Items will make your stage more beautiful. These are time-saving while staging decorations. These are available in all shapes. Crystal Wedding Stage Decorations Set includes: Four-Fiber Crystal fitted pillars, stylish hand carved sofa set, stunning backdrop, crystal centerpieces, wedding decor items & backdrop curtains etc. Crystal Wedding Stage Decorations are very famous for its own modern & glorious aspects.